CERTIFICATIONS
A certain effort. Rather, certified.
Levico Waters wanted to demonstrate its commitment by certifying its processes and services, to offer the consumer a superior quality product.
The certifications obtained by Levico Waters are: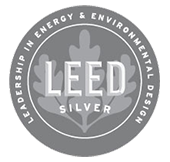 LEED 2009 Italy NC: a sustainable building from all points of view
Levico Waters has obtained the silver grade LEED 2009 Italy NC certification for its historic office building in Levico Terme. The building, thanks to the recent restructuring, has been evaluated as being highly eco-compatible and able to proceed in a sustainable and self-sufficient manner in terms of energy. Leed (Leadership in Energy and Environmental Design) is the most widespread energy and sustainability certification standard in the world, developed in the United States and applied in over 60 countries for the design, construction and management of sustainable buildings from an environmental, social, economic and health point of view.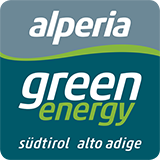 Alperia: green choice
The energy that Levico Waters uses is 100% green. Green energy, supplied by the energy provider Alperia, comes exclusively from renewable sources and is produced in the hydroelectric plants of South Tyrol without the emission of CO₂. So we focus on eco-friendly energy production and actively contribute to protecting the environment for our customers and for our territory.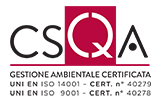 ISO 9001: certifies the business processes of Levico Waters so that they are aimed at improving the effectiveness and efficiency of the organisation as well as customer satisfaction.
ISO 14001: commissioned by Levico Waters to demonstrate its concrete commitment to minimising the environmental impact of its processes, products and services and attesting to the reliability of the applied environmental management system.
Download the documentation:
EPD (Environmental Product Declaration) is an international certification system established in Sweden. EPD provides relevant, verified and registered information about the environmental impact of a product or service. This voluntary declaration is based on the LCA (Life Cycle Assessment), which outlines the consumption of resources (materials, water, energy) and the impact on the surrounding environment in the various stages of the product's life cycle. Raw material extraction and transport to the production plant, manufacture and disposal of the product are the essential stages in the life cycle of a product.
The results are briefly presented through a series of environmental indicators, such as the amount of carbon dioxide emitted or GWP (Global Warming Potential) per declared unit of product (e.g. per ton).
For further details, visit: S-P-01712 Mineral water LEVICO
Download the documentation:
FSC® – Forest Stewardship Council ®
The Forest Stewardship Council® (FSC®) is an independent, non-profit, non-governmental organisation that supports an environmentally-friendly, socially useful and sustainable global forest-management system. According to FSC, our current needs can be met without affecting the world's forests for future generations.
FSC has certified over 200 million hectares of forest. That's why, it is globally known as the most reliable forest management system, which is positively impacting forests, markets and people, today as well as in the future.